Originally Posted: Aug 29, 2020 | Updated: Feb 19, 2022
Over the years, I've stayed somewhat prudent in what I purchase. After years of blindly purchasing make up and skincare, I finally know what works for me and what doesn't. That doesn't mean I don't stumble upon new situations that make me explore and try new stuff.
There are a bunch of products I've wanted to purchase and are added to my Wishlist. I haven't purchased them yet because I either don't need them and is a nice-to-have, or I'm waiting to finish products I'm using right now before picking one of these items up.
1. Chloe EDT
I once received samples of Chloe and Chloe Nomade EDT, and I love them. The problem is that the EDT isn't sold in Canada. I have Chloe EDP and while that's one of my signature perfumes, I still love my samples of the EDTs.
2. Flower Beauty
I think Flower is the most underrated beauty brand. I've heard that their highlighters are great and that their liquid blushes are better than Glossier Cloud paints. I have so many blushes to finish, so I don't see myself purchasing anything from the brand any time soon.
3. Dr. Jart Cicapair Tiger Grass Color Correcting Treatment
This product is calling my name. A cream that almost works like a tinted moisturizer? Sign me up! This product has a high rating on Sephora and that's got me excited about trying this.
4. Stila Beso and One Step Correct Serum
Now this one is obvious – who hasn't seen AOC use Beso in her Vogue video? I love how it looks on her, and considering we're almost the same skin tone, I'm excited about trying this.
The One Step Correct Serum is very similar in concept to the Cicapair Treatment. I would love to use this a tinted moisturizer.
Nov 2022: I purchased Stila Beso to compare it with the GXVE liquid lip, and I must say, I love it!
5. Lisa Eldridge's Go Lightly
I'll admit, I'm one of those Audrey Hepburn fans that has a picture of Audrey in her bedroom. I like her for her style and I count Breakfast at Tiffany's as one of my favourite movies. So it's not a surprise that I want to purchase the Go Lightly lipstick. The last time it was back in stock, I hesitated and by the time I decided to purchase it, it was out of stock.
Update
Feb 2022: I purchased the Go-Lightly Gloss and Dance Card. I'm not a fan of either of them. The gloss doesn't have enough pigmentation and Dance Card is a very toned down version of the original Go-Lightly gloss. There is a bit of confusion on which shade was actually used in Breakfast at Tiffany's. At some point in the past, Revlon posted on their Facebook account that Pink in the Afternoon was used in the movie.
My take: Go-lightly is the shade Audrey Hepburn liked and used; Pink the Afternoon were used in the movie. I find Pink in the Afternoon and Dance card very similar.

Jun 2021: Lisa has released the original color as a gloss with the same name, as well as updated lipstick called Dance Card. Dance card seems to be toned down and I'll update this post once I try them.
6. Luxury Brushes: Chikuhodo, Hakuhodo and Wayne Goss Brushes
My goal is to, someday, be able to afford Japanese brushes. I've been eyeing Chikuhodo and Hakuhodo brushes and I know I don't earn enough to be able to afford them right now. For now, I'm happy with my e.l.f and Real Techiques brushes!
Wayne Goss brushes are also luxurious. They are on par with Japanese brushes. While I've eyed them for a while, it's taken me motivation the size of an elephant to not purchase the brushes!
7. Besame Snow White Palette
Yup, I was a Disney kid. I was raised on Toons (unintentionally) and Disney was a favorite. Now, I think I'm trying to capture those innocent moments of my childhood! I so want the storybook palette but the good news is that this collection was limited edition. So even if I'm tempted to purchase it, I can't because it's sold out and it's rare to find or expensive to purchase on eBay. Would I love to own one, heck yeah!
8. Wayne Goss The Luxury Eye Palette
This is a stunning basic palette. While I'm pretty sure I won't be buying it, because I have a bunch of palettes that I need to finish, it's part of my fantasy Wishlist. If I were a beginner today, I would've picked this palette up.
9. Clionadh Jewelled Mulitchromes
These eyeshadows are beautiful! Unfortunately, I have no use for it – I'm not an influencer, an artist or attend fancy parties any more. As a Canadian, I have mad love for Clionadh; but I really don't see a use for these shadows for me. Would I love to own them? Heck yeah! But at this point in my life, I don't want to spend CA$ 25 on a single eye shadow. (P.s: Anneal and Lunette are stunning)
Update, Nov 22: I purchased Clionadh's first palette — the Dragonfruit palette — and I'm blown away by the quality of the brand's products. I haven't purchased a multichrome yet, but I'm happy with my purchase.
10. Good Molecules Clarify & Cleanse Bar
This is something I might just purchase. My skin on my arms tends to be bumpy and according to Tarababyz on YouTube, this bar addresses the bumpy skin problem. I'd love to test it and see if it actually helps the chicken skin situation.
11. Gucci Makeup
I love the Gucci packaging! But having said that, I've stopped purchasing makeup in plastic packaging. The last product that I bought with plastic packaging was the Physicians Formula Glow Booster bronzer (sidebar: there's something about the tone of this bronzer that just works so well for my neutral undertones). Also, if I purchased it, it would be purely because of the packaging.
Update Nov 12, 2022: I purchased the blush and let's say, I wasn't exactly thrilled with the product.
12. Pave and Gem Stone rings
I'm not big into jewellery but I've always wanted a Pave Diamond ring. Something about how a pave ring looks so beautiful.
Something else I've been coveting are the Lisa Eldridge gem stone rings. Especially the cushion cut emerald ring. But again, with the import costs added, it's just too expensive to purchase right now. For now, I'll make do with my Joe Fresh and H&M jewellery!
13. Tom Ford Lipstick in Paradiso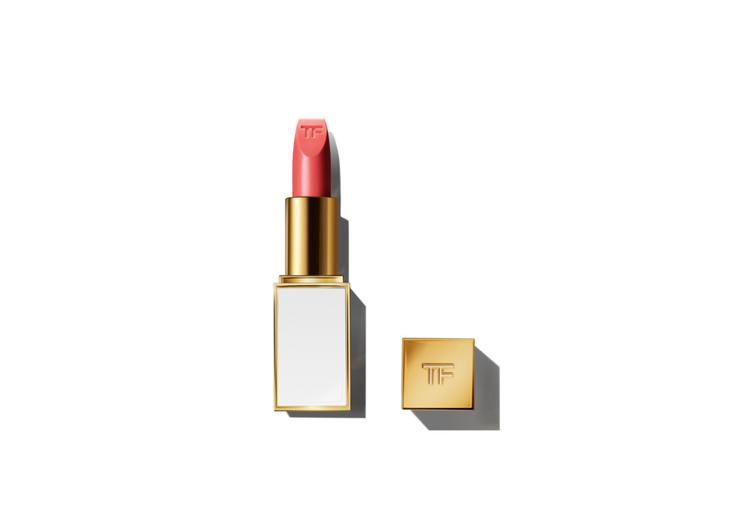 Lately, I've been enjoying Pink and Coral lipsticks. I saw this lipstick on the Tom Ford website and I've been eyeing it. This isn't a must have; I have 10 lipsticks I can use at any given time. Also, I'm a little unsure of this because it's a sheer lipstick and I have pigmented lips. But it may be in my cart during the next sale!
14. Salt New York and La Bouche Rouge Eyeshadow Palettes
These are fancy eyeshadow and make up palettes I've always wanted to try. I love the Salt New York set that you can create which includes a foundation, blush, bronzer, highlighter and a lipstick in pans.
With La Bouche Rouge, it's about the sleek compact and the leather case (if I were to purchase, I'd probably pick up the vegan leather version)
Products on my wish list that I've purchased:
Drunk Elephant Beste No.9 Cleanser
Update
June 2021: I finally bought the full size product a few months ago and it was awful. It dried out my skin badly and I ended up with awful breakouts. I would not recommend this product.
During the shutdown, my life was turned upside down. I didn't step out and I couldn't do the things I loved – working out, grabbing a coffee with my colleagues, etc. That also took a toll on my skin. I ended up with large, painful, break outs. At the time I was using the Pacifica Sea Foam Face wash and it couldn't help with fighting the breakouts. Out of sheer frustration, I decided to try the sample size of the DE cleanser. It was part of a Sephora birthday gift set and I'm so glad I chose the set. In a matter of days, my acne has almost cleared out. It hasn't completely cleared out, but my skin has improved when compared to what my skin was before I started using the cleanser.
I use it with The Ordinary's Natural Moisturizing Factors; I probably should use the Protini Peptide moisturiser that is a part of the set.
The product and the packaging of this brand are exquisite but I think it gets lost in the crowd of the latest makeup launches. I like Korean brands like Etude House – they have such cute packaging – but I think Sulwahsoo is in a league of its own.
2. Sulwahsoo Makeup
Update: Read my review of Sulwhasoo makeup
Sulwahsoo's make up line includes powders, blush and foundations I'd like to try.
P.s: The last K-beauty product I bought was the Labiotte Chateau Palette in Sweet Wine and I love it! I was worried about the color payoff but it works for my skin tone (NW 35).
Disclaimer: The links in this post are not affiliate links. I added them for ease of access.
Image Attribution: Photo by Andrew Neel on Unsplash